I have originally put together this web site back in 1996 telling you a little about myself. Since then, it has outgrown so many "hosts" that it needed a final home as "Sky-Chaser"! This should be an easy name to remember for hurricane chasing, storm chasing, severe weather, extreme journalism, skydiving, photography, travel, computer graphics and video, computer programming, Web design, and much more! I am a computer programmer / analyst, writer, skydiver (USPA C30317), amateur photographer, extreme storm journalist, and computer artist. I enjoy flying and aerobatics, boating and jet skis, surfing, HAM radio, skydiving, and videography. I am also a volunteer SKYWARN storm spotter (FL B036 / 5257) for the National Weather Service as well as a licensed HAM radio operator (KG4PJN).

"Sky-Chaser" Consulting, as this site reflects from a business standpoint, mainly specializes in storm / hurricane chasing, and other documentation of extreme weather events for media, educational, charity / benefits, and public awareness goals. This site also contains my computer consulting services in PICK (Universe, Unidata, and similar Multivalue-DB oriented) programming for many major business requirements. The "Sky-Chaser" site also has lots of information about my other sports, hobbies, and lifestyles besides storm journalism and computer consulting. I feel you should enjoy or even be able to utilize some of the areas on this web site for anything from education to entertainment ... And be sure check back often, because it is updated on a continuous basis!
Chris Collura - Sky-Chaser Consulting - HAM KG4PJN - Skywarn FL B036 / 5257 - USPA C30317
(Follow Me On FaceBook HERE ... And Check Out My YouTube Channel HERE!)
Since 1996! ... Last Major Site Update: Tuesday - May 21, 2013 - Active Chase Trip (Central USA) In Progress!
(Click HERE To Check For Live Video Stream When An Active Chase Is In Progress)
---
TABLE OF CONTENTS - CLICK TO GO TO PAGE
---
ADS FROM SPONSORS FOR THIS WEB SITE
Whether you're chasing tornadoes in the midwest or simply scheduling a party, WeatherStudio has got you covered ... Find out more by following the link for it HERE!
Timeshare resale companies claim they can help you sell timeshares and that a buyer is waiting in the wings. However, shocking data reveals that timeshare resale companies donít always follow through with promises. The best solution is with Donate Timeshares and The Wyatt Foundation.
Be sure you have full printer inkjet cartridges before printing this page. Only use the best printers with high quality discount printer cartridges.
---
NEWS AND INFORMATION
== THE CITY OF MOORE OKLAHOMA SUSTAINED SIGNIFICANT TORNADO DAMAGE ON MAY 20, 2013 ==
== PLEASE KEEP OKLAHOMA IN YOUR HEARTS AND PRAYERS ==
---
STORM CHASE MAIN TRIP TO CENTRAL US - MAY 18 TO JUNE 2, 2013

My main yearly chase "expedition" trip to the central USA is CURRENTLY UNDERWAY from May 18 through June 2 for a full 16 days of storm chasing! Storm activity is very active as of the third to fourth week of May! Be sure to check back here often as well as in my STORM CHASING section for MIDWEST 2013 of this site as the chase trip unfolds. A link to the chase trip page has also been provided as the link HERE!
---
SEVERE STORM SEASON 2013 IS HERE!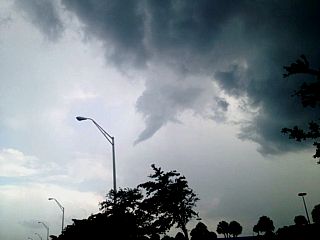 The severe weather season of 2013 is upon us and I am getting ready to not only chase local storms in Florida, but head to the Central USA towards late May anticipating an active pattern after a slow start to May 2013. The picture above shows an anticyclonic funnel cloud, rotating clockwise, over Miami-Dade county in South Florida on the afternoon of May 9, 2013. See my chase logs for 2013 in my STORM CHASING section of this site, plus many others, or jump to the link for it HERE!
---
FIRST STORM CHASE TRIP TO CENTRAL USA - APRIL 6-10, 2013

The first chase trip of the 2013 season was done from April 6 through the 10 in the central USA. Numerous supercells and some small tornadoes were observed during this trip, especially in Kansas and Colorado from April 7th through the 9th. A chase log is now ready in my STORM CHASING section of my website under MIDWEST CHASES FOR 2013. A link to it also has been provided HERE to go right to it!
---
"NIAGARA FALLER" VIDEO PROJECT - MARCH 2013

This was a rather cool attempt to send a GoPro camera, mounted on a custom designed "platform" that was tethered with a 100' rope for retrieval, over the edge of Niagara Falls in late March of 2013. Two GoPro cameras were used in two attempts, with the first one having its case damaged from water impact, but the second one successfully retrieved (barely) after going over the edge. A section on this has been provided in my OUTDOORS section of this side, and a link for it has been provided HERE. A video of this also has been posted, and the link for it is also available HERE!
---
CHASERCON 2013 - NATIONAL STORM CHASER CONVENTION

The National Storm Chaser Convention, or "ChaserCon" in Denver, Colorado was again attended during the weekend of February 15-17, after a 2 week trip to California. You can visit the area in my STORM CHASING page for this event, or by clicking the link for it HERE.
---
SEXUAL ABUSE IS NEVER OK
Child / Sexual abuse is REAL - And January is the month where child abuse occurs the most - Read more at the link HERE. This a BIG problem that goes virtually un-noticed until the unfortunate victim suffers many years later.
---
THE VERY "EVIL" SIDE OF MAN - SANDY HOOK SHOOTING
No words can describe the horrific tragedy that happened at the small Sandy Hook elementary school on December 14, 2012. For someone to do this is beyond words - All we can do is pray for these HIGHLY unfortunate victims and hope for some changes in the way people live their lives with such violent intentions. I cannot comment anymore on this - Sigh (why KIDS?) - Seeing even our US president crying was a bit too much. Sometimes I really wonder where the fine line between God and the "Devil" really exists.
---
SPECIAL OFFERS
DVD "CUT TO THE CHASE" - PLUS MANY OTHERS AVAILABLE!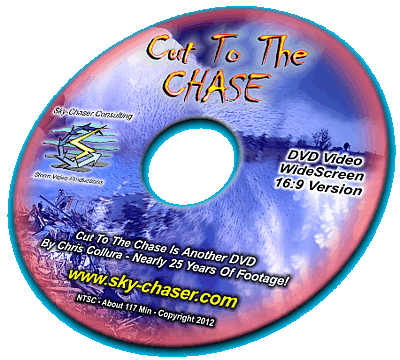 This is a career-long compilation of some of the most intense moments of storm chasing with footage as far back as 1987 (almost 25 YEARS of storm chasing). The most boring parts have been edited out and this DVD has almost two hours of non-stop high-action video! See every form of extreme weather, from thunderstorms and flooding to hurricanes, tornadoes, and even blizzards! See some of the gripping footage from hurricane chasing projects, including hurricanes Charley in 2004 and Katrina in 2005.

See tornadoes intercepted in just about every corner of the Central US, as well as their devastating aftermath. This DVD just about has it all - And then some! For more information and how to order this DVD, click the image above or the link HERE.
This is NOT all that is available in my DVD collections for sale ... Be sure to check out the latest DVD production above, as well as many others by visiting my special "offers" page for video documentaries at the link HERE!
---

Follow This Link To Check Out My Media Sales / Inquiries Page

This area is where any special sales / media opportunities will be posted, so plese watch this area carefully. You can also click the link above, or click HERE to jump to my media sales / offers page.
---
MAIN DIRECTORY FOR THIS WEB-SITE
Sky-Chaser BLOG Page


Airshow! Aviation At Its Finest

Alcatraz Island And Prison

America - Tributes Plus September 11, 2001


Art And Drawings Gallery

Aviation And Flying

Aviation And Propulsion Principles

Buddha Audiobook Religeous Benefit Project (External Link)

Car Burglary At Miami TGI Friday's

Chris Collura's Career RESUME

Goodies And Cool Stuff

Information On Diabetes

Internet Fraud - Always A First Time!

Outdoor Activities And Boating

Pets And Animals Page

Roller Coasters And Extreme Rides

Sky Diving And Other Extreme Sports

Software Products Page


Special Offers And Media Sales Page

Storm Chasing By Chris Collura


Surviving A Roll-Over Car Accident


Tesla Coils Plus "Weird Science" Stuff

---
IMPORTANT INFORMATION FOR MEDIA INQUIRIES
All of my stock-video footage is also managed by my agents at Conus Communications. Please refer to CONUS first as they can be of much better help at providing any fulfillment of STOCK video requests (this does NOT include DVD productions offered on this site). For such STOCK footage requests, please contact Chris Bridson at CONUS. Their phone number is (651) 642-4576, or you can go to their official web site at the link WWW.CONUS.COM.
You can review all production videos, DVD's, documentaries, and stock video on my OFFERS page which can be viewed by clicking the link HERE. Please not that you can request STOCK video through me directly, or through the CONUS archive, which is much easier!
---
May A
THRILLING
Time Be In Your Immediate Future!
\\|//
(@ @)
----ooOo--\ ( ) /--oOoo----
~
"I Thrilled All The Visitors Below!"
---
ABOUT THE AUTHOR

View Information About The Author Of This Site

This entire web site is the work of Christopher Collura (myself) and is intended for informative, entertainment, and educational purposes. The intent is to show the pure thrill and essence of natural phenomina, extreme sports, experiences, and many other unique things or events, many from viewer's perspective. Please click the link above to find out more information about myself, the author of this great web site.
---
HTML File "index.htm" - Developed By Chris Collura