---
CHRIS COLLURA - AUTHOR OF THIS WEB SITE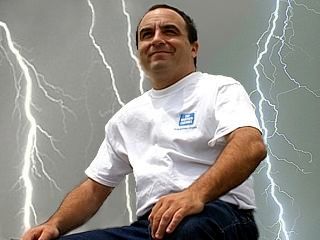 | | |
| --- | --- |
| I was born on September 24 in Brooklyn, New York. I grew up on Long Island in New York and moved to Florida in 1985 with my family when I was young. I grew up terrified of thunderstorms, afraid or flying and fast rides at amusement parks. With my grandfathers help, I overcame my fear of storms, and learned to appreciate their power. I became interested in them. When I got my driver's license, I began running after them across counties. The same thing happened with my fear of heights and going fast. Now I skydive and go stunt flying, and ride the fastest jet skis available. One good thing, I never did drugs in my life ... There are so many things in life to get "High" on. I enjoy Florida and its nice and sometimes exciting climate. I currently live in South Florida and work in Central Florida. Remember, let life be a challenge. Turn your fears into fun. Fly high and don't get high! | |
Storm Spotter - Skywarn FL B036
HAM Radio Operator - KG4PJN
Skydiver - USPA License C30317
---
FEATURES OF THIS WEB SITE
SKYBLOG - This is a special section for my BLOG section for SKY-CHASER. Many highlights and titles appear on this page, even ones no longer posted on the main page. The SKYBLOG page has a handsome and easy-to navigate format for your best viewing experience.
AIRSHOW - See aviation at its finest, from world class aerobatics to military might, in the airshow section of this site. It is all here, from the Pitts Special and Extra 300 to the stealth bomber and US Navy Blue Angels!
ALCATRAZ - Check out this section on the island of Alcatraz in the San Francisco harbor in California. This section takes you to the most famous US prison ever constructed and its surrounding natural beauty.
AMERICA - A tribute to the 9-11-2001 terrorist attacks and space shuttle disaster in 2003. Explains how these events forever changed the US economy and way of life from a compelling perspective.
ART GALLERY - A small collection of some of my drawings and artwork. Some art is computer generated while others have been scanned on to the web site. Check out some comical and interesting artwork on this page.
AVIATION AND FLYING - Pictures of aerobatic flying and other miscellaneous pictures from flying in light or commercial aircraft. See the world from high above like you never seen it before. Includes aerobatics, city fly-overs, night flights, even the forbidden airspace of Cuba.
CAR BURGLARY - Probably one of the most horrible experiences one can have is being robbed of thousands of dollars worth of equipment. Such an unthinkable experience ocurred to me at a Friday's restaurant in Miami. Even worse, my homeowners insurance did absolutely nothing to help me recover financially for replacing my items. Read about this, see what was taken, what happened, and how YOU can avoid something like this!
MY RESUME - My career-oriented resume for all my IT experience.
COOL STUFF - Check this web page for interesting web links to some other favorite web sites.
DIABETES - This is a sad section dedicated to a deceased best-friend of mine who had out of control diabetes. It also provides information and tips on this insidious and debilitating condition.
INTERNET FRAUD - Buying online? Watch out! Read this true story about an experience with an online auction, and how it can go very, VERY wrong. Learn how to protect yourself with tips on what and what not to do.
OUTDOORS AND BOATING - The great outdoors and traveling, including some pictures of boating when my family and I had a Bayliner cabin cruiser as well as some jet skiing pictures from a Sea Doo watercraft. There are also many world travel pictures in this area including Hawaii, Europe, and Central America.
PETS AND ANIMALS - Animals, gotta love them. See a dramatic demonstration of reptiles and amphibians, from albino frogs to Florida crocodiles. See cave bats, spiders, birds, and cool tropical fish up close and personal. Meet my dog named "Tito".
ROLLER COASTERS AND EXTREME RIDES - Roller Coasters, Extreme Rides, Bungee jumping, and more! Check out what it's like to ride record-breaking roller coasters and ride some of the most white-knuckle extreme rides! View my "roller coaster resume" with details of every roller coaster I rode in my life. Also has a special section on G-force and its effects.
SKYDIVING AND EXTREME SPORTS - Extreme sports, skydiving, surfing, and more. This section has some of the most incredible skydiving footage. See what it's like to jump from an inverted bi-plane and even a jet airliner! See a skydive from 24,000 feet and footage from skydiving in a vertical wind tunnel! There are many extreme sports pictures at this location.
SOFTWARE PRODUCTS - A collection of computer programs currently under development. Most are screen snapshots of software such as a hurricane tracking chart program. Visit this area to find out how to obtain a copy of the software.
SPECIAL OFFERS - Preview and order any video production pertaining to storm chasing, documentaries, aviation, and other interests. All offers and merchandise (if available) will be presented on this page.
STORM CHASING - Extensive coverage of tornadoes, thunderstorms, and hurricanes by myself. Major hurricane chases are categorized by name and year, including the terrible year of 2004. Check damage from legendary hurricanes such as category-5 hurricane Andrew in 1992, as well as direct hits of lightning captured on camera as well as some striking tornado encounters as I chase in the US Great Plains each year.
SURVIVING AN ACCIDENT - Released just after a legal settlement, see my heroing experience at cheating death as I survive a violent impact with a truck and subsequent 6-times roll-over and walk away to tell about it! Not for the faint of heart.
TESLA COIL - See my Tesla coiling experience, making artificial lightning in my garage. Weird science! Check out all the Tesla coils I built, some big and some small, some a work of art, others a miserable failure. See a home made pneumatic gun that can shoot marbles at bullet velocities.
---
NOTE: The areas above are CONSTANTLY being updated, especially the area for the storm chasing. Please check back often to this site. To get the full experience of this web site, you must be using the latest WEB browser and connect to the main page available at the "home" link at the bottom of this page. I hope you enjoy your experience on my web site.
---
HTML File "cinfo.htm" - Developed By Chris Collura
To Return To The HOME Page Of This Site Click The "INDEX.HTM" Link Here!